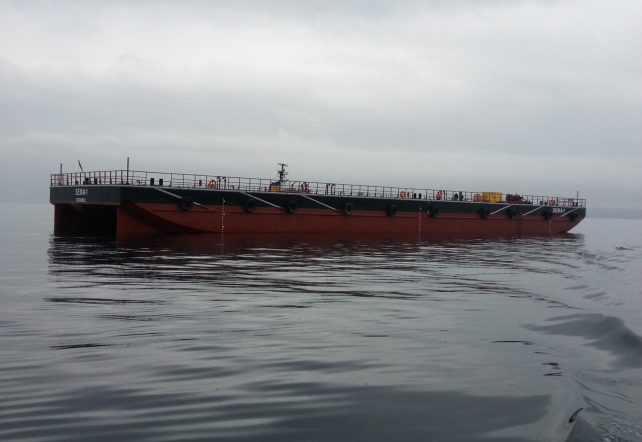 DECK BARGES
As we mentioned before on our blog post Types of Barges (which contains very useful information) it was explained superficially. Now you can find detailed information about Deck Barges.
Also called or known as a flat deck barge. Deck barges can vary in size and overall design depending on what they are used for, and some include rake decks. Those with rake decks have curved bows that allow for less resistance when being pushed, which can make transporting and shipping items on the deck easier. Some of the items commonly transported/stored on deck barges include crane, excavators, pipe, piling, rock, fabricated structures, and certain kinds of liquid cargo. Occasionally, these types of barges are utilized as work platforms, allowing offshore projects to conveniently extend beyond land. Deck barges are common in marine construction, dredging, bridge construction, bulkhead construction, and in the offshore gas and oil industry. A deck barge's deck can accommodate large objects such as sections of bridges in addition to bulk materials, machinery, and equipment.
Made of steel and engineered to withstand the elements, it is common to find deck barges still in use over the course of several decades. Deck barges are usually between 20 and 120 meters in length and between 15 and 30 meters wide. They can support several hundred tons of weight. The various types of deck barges include inland deck barges, rock/gravel deck barges, deck barges with combing walls, self-propelled deck barges, deck barges with bin walls, classed deck barges that have to meet certain specifications. Most deck barges are not self-propelled, and those that are self-propelled are often higher in price.
Deck barges can cope with an enormous amount of damage and unbelievably still survive.
Depending on the size, age, and overall specs of a deck barge, this type of equipment is usually valued between $100,000 and $4,000,000. Before mentioned, deck barges commonly last several decades or more. It is common to find deck barges from the 1950s still in use due to their durability. Because of this, buying used deck barges is a great alternative for many companies on a budget. For temporary use, some companies decide to charter rather than outright purchase deck barges.
You can find Sema-1 (belongs to our company), deck barge for sale, designed and constructed specially and carefully.